About us
We, Erwin and Anita van Gerwen, are welcoming you on our website!
Before we went living together in 1993 we already knew we would like to have a dog with us in our home. Both we believed that the character and appearance of the rotweiller matched as best to us. And so it happened, in the end of 1993 rotweiller pup Kelly became our housemate and stole our hearts. During the courses we took we got contact with other rotweiller lovers and this was the start of our hobby. In 1995 rotweiller pup Esra came to accompany us, this time a lady with a pedigree so we could participate on shows. Kelly and Esra came along well together and we enjoyed their company.

Esra was from the kennel 'van de Runderkraal' and there we meeted the breed bullmastiff for the first time. During our visits we both had the feeling we would like to have a bullmastiff living with us in the future. This happend in 2001, bullmastiff puppy Kos van de Runderkraal was accompanying us and his great character made that we also closed this breed in our hearts. When we got more living space in 2004 also bullmastiff female Noa-Princess van de Runderkraal came living with us. Noa became a very beautiful lady and we decided to have her official tested on her health. When this was also positive we decided to breed with her in the future.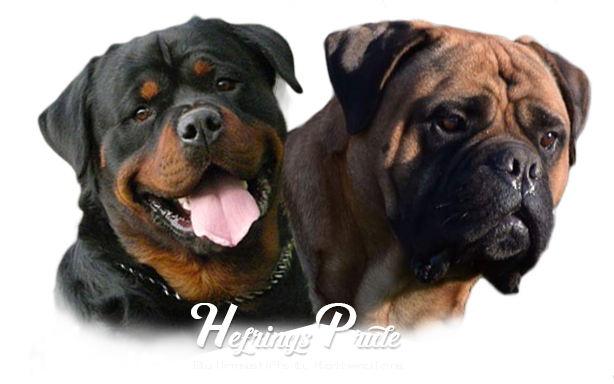 Because we like to do everything well, official and well thought we took over the kennelname 'Hefrings Pride' from mr. Van Alfen. Finally in 2006 it was time, our first Hefrings Pride litter was born. We enjoyed this so much that we, since than, regular have a litter from the two breeds which we felt in love with, the rotweiller and the bullmastiff. Because of our hobby we decided to move from the Netherlands to a city just over the Belgium border, so we and our dogs have more space to enjoy together. When you would like to meet us, have questions or maybe would like to welcome a bullmastiff puppy or rotweiller puppy please contact us.
With kind regards,